Mais uma receita para uma segunda sem carne, tirada daqui
Another Meatless Monday recipe, taken from
here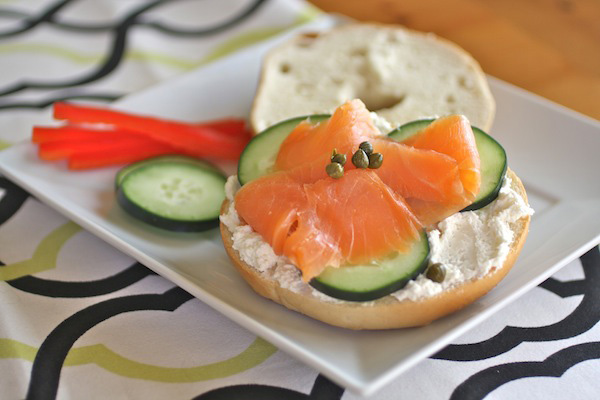 Sanduiche (em pão tipo bagel) com pepino e salmão fumado
• 60 gramas de salmão defumado, dividido
• 2 pães (tipo bagel) cortados
• 4 colheres de sopa de creme de queijo, dividido (a gosto)
• 1 colher de chá de alcaparras (como enfeite ou opcional caso não aprecie)
1. Cortar e torrar os pães.
2. Espalhe o queijo-creme nos pães.
3. Adicionar cerca de 5 das rodelas de pepino, por cima do queijo-creme.
4. Cobra com cerca de 30gramas de salmão fumado, e decore com as alcaparras.
5. Adicionar a outra fatia do pão, e cortar ao meio.
Cucumber and smoked salmon bagel sandwich recipe
Ingredients:
2 ounces smoked salmon, divided

2 bagels, sliced

4 tablespoons cream cheese, divided (more to taste)

10 cucumber rounds, divided

1 teaspoon capers, as garnish
Directions:
Slice and toast your bagels.

Spread the cream cheese over one half of the bagel.

Add about 5 of the cucumber rounds over the cream cheese.

Top with 1 ounce of smoked salmon, and garnish with a few capers.

Add the top half of the bagel, and slice it in half.